NIONON202A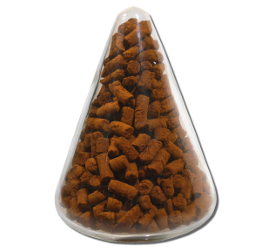 【Product specifications】
Bulk Density:0.62kg/L±0.05
Crush Strength:≥6kg
H2SAdsorption Capacity ※1:≥350mg/g
※1 : H2S Adsorption Capacity is the analysis of the quality check and is not the thing which expressed performance in the real use.

【Size】
4mmφ , 8mmφ
【Component】
Fe2O3:40%


【
Product Description
】
NIONON quickly removes specific unpleasant smelling gases given off by facilities such as waste water treatment plants, sewage treatment plants, and factories.
For removing odors such as "hydrogen sulfide" given off by sewage treatment plants and factories.
There are products for removing hydrogen sulfide odor.
Rather than an adsorbent like activated carbon that adsorbs all kinds of gases, this is a high-performance adsorbent that quickly combines chemically with specific unpleasant smelling substances "hydrogen sulfide" removing them reliably.
Contains no substances harmful to people or animals, and unlike chemical cleaning methods using strong acids or strong alkalis, handling is simple and safe.
In addition, because it is dry processed, there is no need to deal with dirty water, and less maintenance is required. It offers similar performance or better compared to conventional products (such as impregnated activated carbon), so it delivers drastic cost savings and, because it adopts a dry removal mechanism, it offers compact operation and simple management relative to the amount and density of gas.
【
Inner Capacity
】
Flexible container(1m
3
):620kgs (NET) , 623kgs (GROSS)
Flexible container(500L):310kgs (NET) , 312kgs (GROSS)
---